It's finally here: one of the coziest times of the year. The leaves are changing colors, it's almost time to start listening to Christmas music, Starbucks has started selling their special holiday drinks, and Thanksgiving is right around the corner. However, you aren't exactly in a country that celebrates this special holiday.
As they say in Spain, no pasa nada! There are many options for celebrating Thanksgiving, even though you are far from home. This isn't my first time being abroad during the holidays, and I have learned some things along the way.
Reason for the Season
As cheesy as the title sounds, it has a point. There is a reason that we celebrate Thanksgiving. While people have different opinions about the origins of Thanksgiving and why it's celebrated, I believe that our tradition has always been to use this as a time to give thanks with family and friends. Sometimes I forget this and get wrapped up in the feeling of the holiday season, especially with Christmas and Black Friday right around the corner. I must remind myself that Thanksgiving isn't just a time to stuff my face or to get a head start on discounted shopping; it is a time to practice gratitude and cherish my loved ones.
Friendsgiving, anyone?
Okay, so let's talk celebrations. Are you someone who has many friends or are you a social butterfly who loves meeting people? Friendsgiving would be perfect for you! Friendsgiving is basically a time when friends host a Thanksgiving dinner, but instead of your family coming together, it's a group of friends. This can look a lot of different ways. If you already have a group of people that you hang out with, make this into a special gathering and host a dinner. You could also meet at a restaurant and share a huge meal together. Whatever you do, make it a day to celebrate, decorate the house, try out new recipes, and most importantly laugh and enjoy each other's company. (Check out a past blog entry about How to Celebrate Thanksgiving in Madrid here!)
Our Thanksgiving meal and large bowl of Sangria. Photo courtesy of the author.
My first Friendsgiving happened during my study abroad year. We were all feeling a bit sad about the upcoming holiday season and decided to be "adults" for a day and host our own Thanksgiving dinner. (We were adults because A. we didn't normally cook and B. we had never hosted anything.) It was so exciting for us. We put a bunch of random tables together, found an old cloth to cover them with, and made food together. Our dinner consisted of a vast assortment of things, but our biggest accomplishment was a large bowl of sangria. What do I remember the most about this night? Us laughing in the kitchen while attempting to figure out how the oven actually worked, looking at our plates and politely shuffling the food around while saying how great it was (it wasn't that great). But when the night ended, I felt extremely blessed and happy. Why am I telling you all of this? Because Friendsgiving doesn't have to be an exact replica of how we celebrate it in the States. It's a way to share our tradition and take time to celebrate each other.
Our Friendsgiving! Photo courtesy of the author
On the other hand, if you are someone who loves to socialize, there are many events hosted around Madrid to celebrate the holiday. Facebook and meetup.com are a great place to find them. I also just recently learned of Chefugee, which is an organization that supports refugees. Culinary chefs from around the world come together to create meals. It is supported by Madrid for Refugees and this year they will host a Global Friendsgiving. This is a great way not only to celebrate the holiday but also to give back to families who will greatly appreciate your support!
A call home may be what is best
Sometimes the best way to celebrate is to make a call home. We have been so busy adjusting to our new lives in a new country that taking a break and spending uninterrupted time with our loved ones can be really rejuvenating. A quick FaceTime or WhatsApp talk with a cousin you haven't seen in ages could be all you need.
Last year, that is just what I did. I had just arrived in Seville and had barely settled by the time Thanksgiving rolled around. I hardly knew anyone. What I found most calming was to create a homemade meal (which meant my meal had to include vegetables) and I FaceTimed my family. I loved it. It was exactly what I needed.
Don't forget to share with your students
In the spirit of giving, make sure to share a little bit about this holiday with your students! Bring pictures of your family, create a short presentation or if possible show them the movie A Charlie Brown Thanksgiving and make it into a classroom activity. This can be a great time to be a cultural ambassador and share our traditions.
A Thanksgiving photo that I shared with my students last year. They enjoyed seeing the sweet potato pie and getting a glimpse of what an American neighborhood looked like. Photo courtesy of the Author.
There is no "right way" to celebrate Thanksgiving. Regardless of if you choose to throw your own Friendsgiving, join a social event or spend some time FaceTiming your family – enjoy it! There are a variety of ways to celebrate this holiday, and each one is valid. Don't let distance or the lack of familiar faces take away celebrating this special time! Most importantly, remember that this holiday is a time to spend with the ones we love and show gratitude, however that may look.
I wish you a very happy Thanksgiving!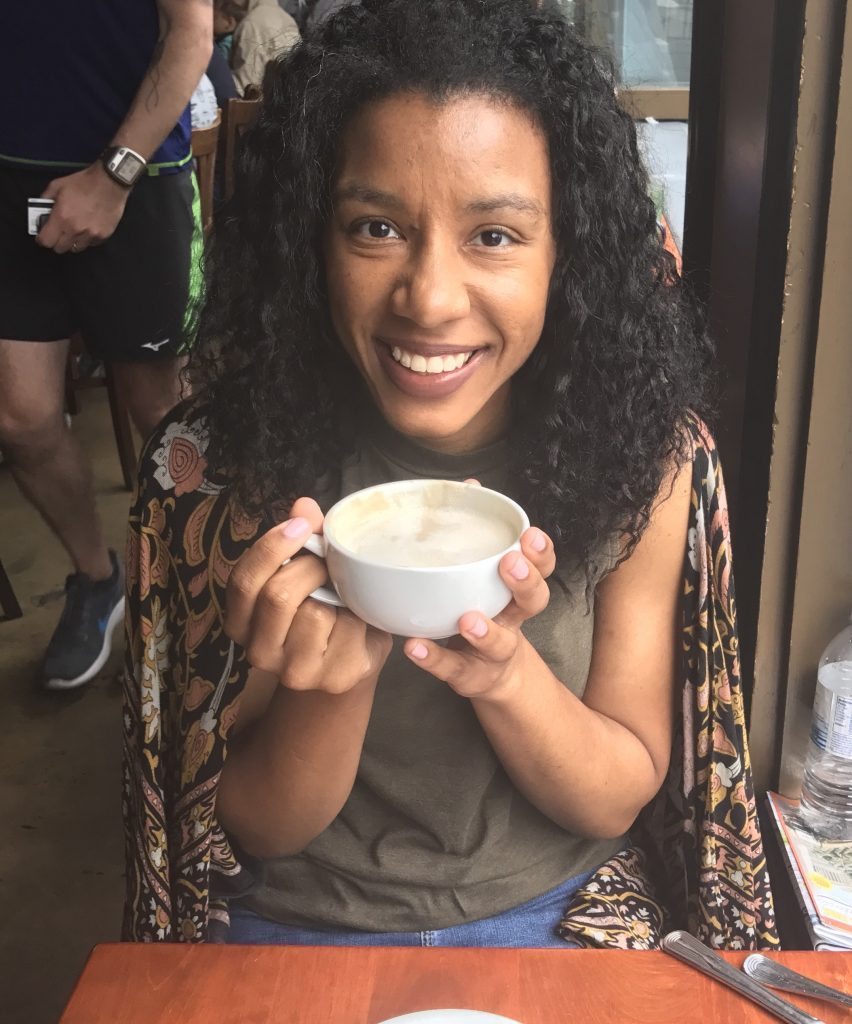 Danielle Jones is a Master's student at Instituto Franklin-UAH. Besides teaching, her passions include writing and oat milk lattes. You can check out her blurbs about life at her blog.