Deciding to go to Spain and get my Master's Degree in Bilingual and Multicultural Education was hands down the best decision I have ever made, in so many aspects. I think back at the young woman I was: she had no idea how this program and opportunity would change her life. I'm still baffled at how fast I leaped at the opportunity, but boy am I glad I did.
I was accepted into the program in late spring of 2010; I remember feeling shocked. As I told more people it sounded a bit more real, but the idea of packing up and moving across the world wouldn't really hit me until the end of summer. After buying all my Spain travel books and doing my research, it was time to make my decision a reality. Little did I know that feeling of arriving in a new place and having to get accustomed to new norms would one day help me understand my future students. Enjoying and appreciating a new culture would help me guide my future students to appreciate their own cultures and traditions. I did not know that Spain would light a passion in me to advocate for Spanish-speaking students and families in the United States.
Thanks to this program and its classes, I was able to learn about Spain's history and actually see the streets and buildings in person rather than just in a textbook. I was able to learn new practices and immediately implement them in the classrooms where I was assisting. I quickly learned what behavior management was, and how to successfully create that comfortable, inviting classroom environment. I was able to experience many classrooms, varying from 3-year-olds in infantil to 6th graders. All of the observation, knowledge, implementation, and co-teaching done that first year was worth at least five years of experience, in my opinion. It was so rewarding that when it came time for the program to end and those ten months had gone by, I wasn't ready to leave this new home.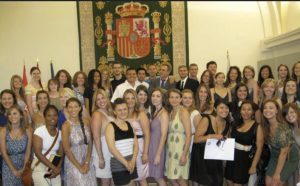 Photo caption: Heidi and her cohort after their graduation ceremony. Image courtesy of the author.
I very proudly walked across the stage and got my Diploma for a Master's in Bilingual and Multicultural Education, but my journey in Spain did not end there.
Staying in Spain after T&L
Spain would be my home for the next seven years. During those years I had the joy of working with wonderful teachers who would have a huge influence on my teaching style. I learned how to have a good work/life balance while still providing an excellent education to my students. I met my husband and made lifelong friendships. I still had my travel bucket list from my first year and am proud to say I have successfully checked off all the boxes – ending with a camel ride in the desert this past summer.
In my time with Instituto Franklin-UAH and in Spain, I learned that teaching a new language is all about speaking, doing, moving and singing and not about memorizing and writing. I learned there was a process and it slowly builds on each element. But most of all I learned that creating a positive and safe environment in your classroom is key. When students feel comfortable, they will open up and start the process, whether it is speaking in the new language, singing a song in the new language, or pointing to new vocabulary in that language. Each step along the way should be praised and encouraged. Thanks to Instituto Franklin-UAH I was able to understand and live this process.
Going Home Again
All of these experiences and memories would help guide me to my next calling: moving back to the USA after eight wonderful years and embarking on a new journey in Woodstock Illinois District 200 as a Bilingual Special Education Teacher. I currently teach in two schools in a 1st-5th grade Spanish and English Special Education classroom supporting our Dual Language Program students in literacy. (If you are looking for a great district to work for in Illinois, we have a wonderful Dual Language program and are always on the lookout for more teachers!)
Like I mentioned before, my teaching style is a mesh of all the teachers that crossed my path while teaching and learning in Spain. I am able to now support those students learning and getting an education in two languages. I am able to put myself in the shoes of my new students that have come to our school or country for the first time, I am able to teach the importance of knowing your history and being proud of who you are and, most of all, I am able to make my students feel safe and make them feel proud of who they are and what their future holds.
I am the teacher and person I am today thanks to the opportunity that Instituto Franklin-UAH gave me almost ten years ago. I'm so grateful that young girl in her 20s decided to go for it. If you have any doubt in your mind, take the leap.
You won't regret it.
Heidi Galloza Olmos is a graduate of the Teach & Learn in Spain's Master's in Bilingual and Multicultural Education (2010-2011). She now lives in Illinois and works as a Bilingual Special Education Teacher.