I'm a 19-year-old student traveling the world. I happen to be part of a great program called Long Island University Global, where I get to participate in experiential learning while traveling to various countries, including Spain as part of Instituto Franklin-UAH's Study Abroad program. But I'm also a Muslim Pakistani-American hijab-wearing female. My overall experience so far has been positive, but it's probably not the experience that you can read about on existing travel blogs. My life and how I navigate situations is influenced by two important factors: the color of my skin and my faith. Because of these factors, I have met many people throughout my traveling journey that have been very confused as to how I could be from New York. And then starts the story of how I explain where my family and I are originally from.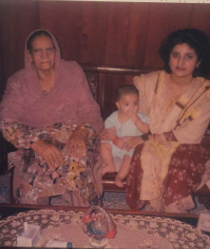 The author as a young child sitting between her grandmother (left) and her mother (right). Photo courtesy of the author.
My Background
I was born in Pakistan. My parents and I immigrated to the USA when I was two years old. We settled in Long Island, New York. I grew up in a predominantly white neighborhood and was fortunate enough to be accepted by most people, even though my family and I encountered some racism. After 9/11, my parents struggled to maintain their Muslim faith publicly. My mother was told by people, both Pakistanis and non-Pakistanis, to not observe her faith and to keep a low profile. My mother said she felt very insecure and vulnerable, especially during this time. The USA was not didn't feel like the "land of the free" anymore to my parents. The racism that followed my family and other American Muslims was intense. There were many stories going around the Muslim community of people being attacked, hijabs forcibly being torn off, and more. My own father was almost shot at his job just for the way he looked. Two men yelled racial slurs at him while pointing a gun at him. Luckily, no shots were fired and my father was fine.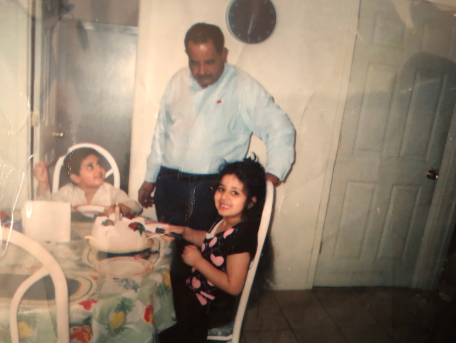 The author (right) with her brother and father. Photo courtesy of the author.
My Decision to Wear the Hijab
Even in the face of increased Islamophobia, I decided to start wearing the hijab my freshman year of high school. The hijab is a personal choice which each Muslim woman can decide to wear or not. Some Muslim women decide to wear the hijab as a means to fulfill the commitment of modesty, show personal devotion to God, and visibly express their Muslim identity. Once I started wearing the hijab, I experienced extremes of acceptance and rejection.
Instead of fighting fire with fire, I decided to educate my peers: I organized my high school's first Middle Eastern/South Asian Cultural Night. I decided to do this event because I saw the importance of acceptance and mutual understanding. I wanted to bridge the divide between different groups of people/ideas. Attendees enjoyed a variety of activities, including coloring mandalas, receiving henna tattoos and eating traditional foods from the Middle Eastern and South Asia. I was able to merge people from different upbringings into a night of love, unity, and acceptance. At this event, I revealed my life story to a roomful of friends and strangers, hoping they could relate to my experiences shaped by my culture and religion, yet fearing they'd reject every word I said. But I was not rejected. The event was such a success that we even repeated the night another time. Many people came both times, and the local media even did a piece on it! Many of the attendees learned a lot, and I was glad that I had an opportunity to expand their knowledge.
My Study Abroad Experience at Instituto Franklin-UAH
During my time at LIU Global, I have been the subject of curiosity as well as happiness from my peers and the locals in all the countries I've been to so far. I'm currently studying at the University of Alcalá for a semester and have met many wonderful people here in Spain.
My professors and classmates are warm and welcoming, and I don't feel like an outsider at all. Some are curious to know about my religious and cultural background, and I gladly tell them about it. I am also happy to tell them that the best way to stop discrimination is to educate ourselves and others.
I'm currently taking two classes at UAH, Intro to Spain and an Internship class. My Intro to Spain class has been extremely helpful and is a class I enjoy. We've learned about the food, politics, cultures, languages and much more in Spain so far. I've been able to learn about Spain more in various aspects and the class has definitely piqued my interest in traveling to other parts of Spain to see the different, beautiful regions. In my internship class, we go over useful skills such as tips for building a CV and how to succeed in interviews. I've been paired with an internship for this class: I intern at Fulbright in Madrid. Fulbright is an American organization that helps with student exchanges between the USA and 160 other countries. At my internship, we work with Spanish students that would like to study in the States and American students that would like to study in Spain. Instituto Franklin-UAH has given me the opportunity to not only take classes that interest me, but be able to gain work experience abroad as well.
As an open-minded individual, I have learned to embrace differences. Through my experience traveling and living as a global citizen, I've witnessed the beauty of kindness and helpfulness towards others. It is our utmost responsibility as humans to lead with love, and that is what I plan to do throughout my time here in this world. Above all, I believe in being a leader. And that leading, be it in action or in speech, will enrich the lives of those around you. So that's exactly what I continue to do: I stand up for myself and others. I stand up for humanity and the fight against injustice. We need to reject the hatred and confront it with love. We need to be leaders in this movement of empowering the rights of all, instead of sitting back and watching lives be degraded. It is our utmost responsibility as humans to lead with love and respect.
And while I continue to stand up for myself and others, I have always been, and will continue to be, proud of my identity.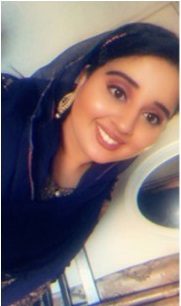 Rina Sarfraz is from Long Island, New York and is a sophomore at Long Island University Global. She studyied abroad for the fall 2019 semester at the University of Alcala. Her hobbies include traveling, volunteering, and reading/writing. Her passion for human rights has led her to study for a Global Studies Bachelor's degree with a minor in International Relations. She hopes to continue studying international law/human rights and work with humanitarian organizations.